Combustion knowledge is a key element in many modem society's critical technologies. Electric power production, home heating, ground transportation, spacecraft/aircraft propulsion, and materials processing all use combustion to convert chemical energy to thermal energy or propulsive force. Although combustion, which accounts for approximately 80 percent of the world's energy usage, is vital to our current way of life, it poses great challenges to maintaining a healthy environment. Improved understanding of combustion will help us deal better with the problems of pollutants, atmospheric change and global warming, unwanted fires and explosions, and the incineration of hazardous wastes. Despite vigorous scientific examination for over a century, researchers still lack full understanding of many fundamental combustion processes.
Fossil fuels are important and relatively inexpensive sources of energy for power production in the world. For many years, we have been using them without serious evaluation of their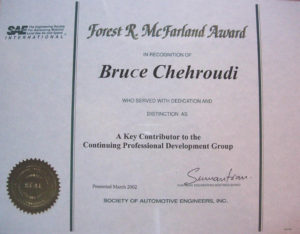 adverse effects on the environment. Recently, public awareness regarding pollutants and their adverse health affects has created an urgent need for engineers and technologists to better understand the combustion process as well as the pollutants formed as by-products of that process.
* Forest McFarland Award for leadership and key contributions to continuing professional education activities
SERVICES:
1. Professional Training: Advanced Technology Consultants (ATC) realizes the value of professional education and fortification of its infrastructure by introducing a few of the most popular seminars in the market.  The objectives of these seminars are to familiarize attendees with key terminologies used by experts in this field and to bring them to a level of knowledge and understanding so they can comfortably and confidently move in any direction their R&D activities demand.  Also, note that the topics covered can be tailored to organization's needs and a hybrid seminar consisting of a blend of two or more seminars can  be prepared. A hot-link list of  seminars is given here (click for more details):
These seminars can be tailored from 1 to 3 days to fit our clients' needs. Due to ATC's low overhead, direct-contact clients are offered a  competitive and cost-effective package.  Individuals interested in these seminars should contact Advanced Technology Consultants (ATC) directly. Alternatively,  these seminars are also sponsored by Society of Automotive Engineers and Powertrain International organizations.
Electronic and hard copies of the seminar materials can only be purchased and are  available through ATC. Contact ATC for a more  economical seminar pricing.
NOTE: Professionally-prepared audio-video Powerpoint-type presentations of these seminars are available for purchase by the companies.  For a sample presentation click on audio-video Powerpoint-type presentations. Each slide is presented with a clear audio by the consultant, describing the subject, while a digital pointer guides the audience to where the attention is to be focused. Companies can put such audio-video presentations on their intranet to be used by their employees. It is a cost effective way approaching  professional training which also contributes towards R&D, design, and intelligent new product development. Presentations are updated every year at a fraction of the original cost.  For more details and pricing please contact ATC.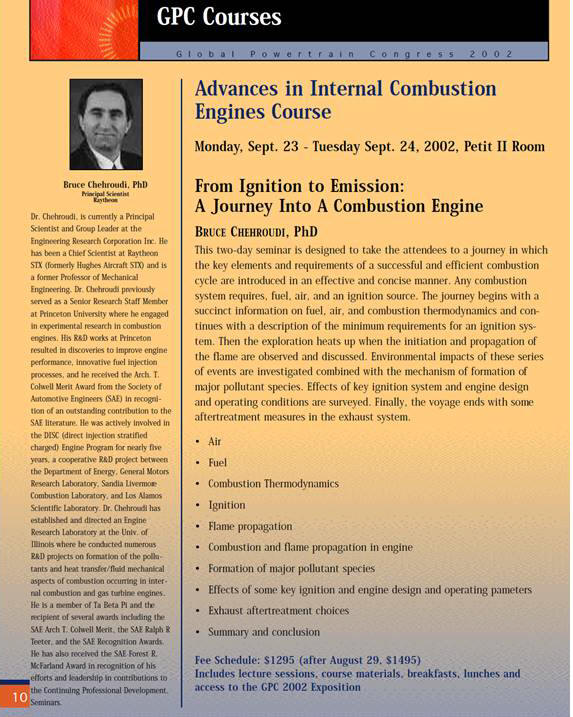 2. Consulting: Advanced Technology Consultants offers high-quality consulting services in the combustion and emission reduction technologies, high efficiency strategies, alternative fuels, emission standards, regulations and their interpretations/implications. Also, it  assists you on policy issues, such as developing, managing, and ensuring the effective implementation and adequacy of policies, processes, training, and tools to perform your firm's mission. Consulting services are offered either in conjunction with the delivery of the professional training seminars or separately.
3. Technical reports and presentations: Advanced Technology Consultants can decrease your R&D load  by performing comprehensive literature survey, filter out irrelevant data, and  summarize key useful information both in a report and as a Powerpoint presentation format. Also, on request,  representative of the team formed out of our network of consultants for  the specific need of the client will appear at the client's location during a prescheduled time to present researched findings  and discuss/recommend  the course of action.
Tutorial Articles:
There are a number of Tutorial Articles that we at ATC have produced that our visitors can access freely by simply clicking on the "Tutorial Articles".